We had a wonderful afternoon tea at our Whitburn surgery last week, raising £174 in aid of the Guide Dogs For The Blind. Thank you to everyone who came along and took part!
The Guide Dogs for the Blind Association is a British charitable organisation founded in 1934. Guide Dogs helps blind and partially sighted people across the UK through the provision of guide dogs, mobility and other rehabilitation services.  Special thanks to Darren and the team from the Guide Dogs for coming along, it was a pleasure to meet the five dogs currently in training.
We'd like to extend big thanks to the following, who helped support us: Gary from Hill's Pet Nutrition, who came along and gave advice on diet; Tim from Pets to Impress for his donation of a Pawparcel; and   Lee's bakers for the donations of goodies.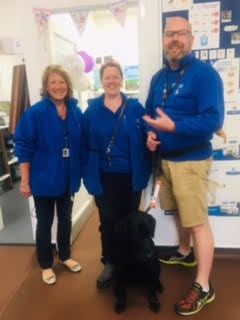 Photos: Team Whitburn with friends!