This is an truly amazing story of bravery and survival by a 14 year old Border Collie.
Our Hebburn surgery received a call from David, one of our clients, as he could see a dog in serious trouble on the banks of Hebburn Marina. We immediately contacted the Fire Brigade, who at the arrived at the Marina in minutes. The dog was rushed into our Hebburn surgery, where our vet Sally and the team where waiting to give emergency treatment. The dog was weak on his back legs, and had a number of cuts, grazes & bruises.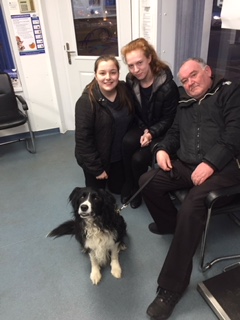 With a little detective work, our nurse Megan managed to track down the owners in Walker, Newcastle. Toby had been missing for 6 days! His family soon arrived at our surgery. After a very emotional reunion with Toby, Chris told us that they had been frantically searching for Toby and had feared the worst. Its a mystery how Toby got across the Tyne from Walker to Hebburn. I don't suppose we will every know but we are all truly thankful that he made it!
Toby was discharged and as you can see from his big smile, he is happy to be back with his family.
A huge Thank you to David who spotted Toby in trouble and our heroes, the Tyne & Wear Fire Service, from our team – and of course, Toby and Chris.
https://www.facebook.com/twfrs